JazzBluesNews Interview with Peter Hostage: We can be free of all the thought processes that we are engaged in in our practice regimen: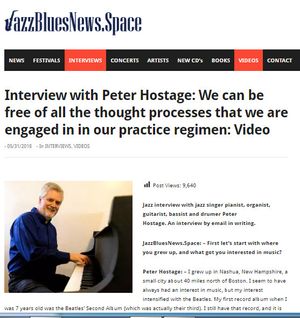 Jazz interview with jazz singer pianist, organist, guitarist, bassist and drumer Peter Hostage. An interview by email in writing. 
JazzBluesNews.Space: – First let's start with where you grew up, and what got you interested in music?
Peter Hostage: – I grew up in Nashua, New Hampshire, a small city about 40 miles north of Boston. I seem to have always had an interest in music, but my interest intensified with the Beatles. My first record album when I was 7 years old was the Beatles' Second Album (which was actually their third). I still have that record, and it is still playable!
JBN.S: – What got you interested in picking up the your musical instruments? What teacher or teachers helped you progress to the level of playing you have today? What made you choose the your musical instruments?
PH: – I first got interested in guitar, but my older brother got a guitar before I could get one. He really didn't want me playing his, so I had to wait until I inherited his paper route, and had saved up the 29 dollars to buy my first guitar. At about the same time, my other older brother bought a piano from our neighbors, but found out he really didn't like it, so I started banging around on that also. I was self taught until high school, when I took some piano lessons, but they really weren't productive. My real music education began when I started at Berklee College of Music in Boston when I was 21. The most influential teacher I had was my piano teacher Dean Earl, who had been at Berklee since they started in the 1940's. He said right from the start that his goal was to teach me how to teach myself, so I would never need a teacher again. Dean had so many great stories about how he would gig with Charlie Parker when Bird was in Boston, and how he subbed for Duke Ellington when Duke was sick. By the way, the first tune that I brought to Dean to work on was Bird's "Anthropology." He immediately said "No!, you'll never make a dime playing that! We'll do standards only!"
JBN.S: – How did your sound evolve over time? What did you do to find and develop your sound?
PH: – My sound started as a rock/blues player – mostly triads and seventh chords. Simple left hand patterns, not a lot inventiveness in the right (but I was gigging steadily). With my jazz playing, the chords got richer, and my left hand became more independent. I decided I needed to become a better solo pianist, and make the piano play the parts of a full band. My inspiration is that of the stride players who didn't need a band, but I wanted to also play more modern rhythms in that context. So, with a lot of practice, it has somehow come together. My style depends a lot on my left hand, which is my "dumb" hand, so it takes extra work to get it to function like I want it to.
JBN.S: – What practice routine or exercise have you developed to maintain and improve your current musical ability especially pertaining to rhythm?
PH: – I always practice with the metronome. Sometimes I'll play the piece very slowly, so as to be fully aware of every nuance, and other times I'll set the click at a pace which is the extent of my ability, and which also leaves me with very little time to think. That way, I'll just "do," and try to keep up! I practice daily for a few hours.
JBN.S: – Which harmonies and harmonic patterns do you prefer now?
PH: – I'm not sure what exactly you're asking here, but the way I interpret the question is that it depends on the song or style/treatment. In a more bluesy context, I will not play as many chord extensions, sticking to 9s and maybe 13s, but there's no hard and fast rule. As my playing has grown, my ear has "widened" to enjoy more tensions in the chords I play, but I don't feel the need to always use every possible tension on every chord in every song.
JBN.S: – What do you love most about your new album 2018: <Uptown>, how it was formed andwhat you are working on today.
PH: – I guess what I love most about Uptown is that it shows where my musical tastes stand. I also love that the songs are diverse, but they do work together as a whole. I'm just starting to write new material for the next album.
JBN.S: – Which are the best jazz albums for you of 2017 year?
PH: – I'm sorry to say that I'm really not one to ask that question. Because I teach music full time, I can't listen while I work, and because I play so many instruments, when I'm not teaching, I'm usually practicing. Having said that, I checked out some online lists pertaining to that subject. I only recognized a very few artists. When I do get to listen, I listen to the Music Choice jazz channel, and though they do play current jazz, only one or two of the albums on the online list seem to be on MC's jazz playlist.
JBN.S: – What's the balance in music between intellect and soul?
PH: – I think they need to be in equal balance, in "harmony." (joke there) We musicians practice to develop our skills. While we practice we are fully engaged, using our intellect to learn and discover more about our instrument and the depths of music. We do that so when it comes time to perform, we can have more technical facility, and more melodic and harmonic knowledge to help us get deeper into the music. So, when we perform, we can be free of all the thought processes that we are engaged in in our practice regimen, which has helped to make it easier to get into "the flow," which comes from the soul.
JBN.S: – Please any memories from gigs, jams, open acts and studio sessions which you'd like to share with us?
PH: – My wife and I were lucky enough to go on a jazz cruise on the QE2 for our honeymoon (3 years after we were married). There was an after hours jam session, so I put my name in. Most (maybe all) of the players were performers on the cruise – a lot of "names." After waiting and drinking at the bar, I was finally next on the list, but then Lou Rawls walks in and takes over the jam and my moment was never to be. It was probably just as well, because by that time I was toast!
JBN.S: – Which collaboration have been the most important experiences for you?
PH: – I treated my jazz trio gigs as collaborations, though I was the band leader. For most of the last 30 years, I have been the band leader, so unfortunately, in most instances, collaboration was not really part of what we were doing. That is not to say that I ran my bands as a strict general, but with a loose, "good time groove" feeling.
JBN.S: – How can we get young people interested in jazz when most of the standard tunes are half a century old?
PH: – Actually, most of the jazz standards are much older than that. As a private lessons instructor, I find that many of the younger jazz students – and there aren't enough, it's true – are interested because of the older songs. I find that many times students don't respond as well to a contemporary rock song "jazzed up" as compared to some of the classics. It's important to learn the repertoire, history and styles of jazz to be a fully rounded player. You hear of this problem as regards to jazz, but not when talking about classical music, with a repertoire aged in hundreds of years, but still is important to current students. I think that young people just need to be exposed to live jazz. Unfortunately most kids have no idea what it is because they've never really experienced it.
JBN.S: – John Coltrane said that music was his spirit. How do you understand the spirit and the meaning of life?
PH: – I wish I understood the spirit and meaning of life. I think it is important to just be and do, and not get to deep into the thought of it. Music can be an opening into the spirit and give a glimpse of the meaning of life, but I believe there is more, and that music is a part of my spirit. But who am I to argue with 'Trane?
JBN.S: – If you could change one thing in the musical world and it would become a reality, what would that be?
PH: – Everyone should learn a musical instrument at least well enough to play "When the Saints Go Marching In," and jam with others.
JBN.S: – Who do you find yourself listening to these days?
PH: – Duke, Count, Brubeck, Wes, Hank Jones, Red Garland, Teddy Wilson, Cannonball, Miles, George Benson, Ella, Bill Evans, Pops, Horace Siver, Art Blakey, Pat Metheny, Wynton Kelly, Oscar, Tatum, Ray Charles, Dr. John, Jimmy Smith, Tower of Power, Maceo Parker, ….on and on. (clearly stuck in the 20th century).
JBN.S: – Let's take a trip with a time machine, so where and why would you really wanna go?
PH: – NYC, 52nd St., between 5th and 6th, May 1948, just like in the photo by William Gottlieb that's on the cover of Uptown. Lots of great jazz all in one block!
JBN.S: – I have been asking you so far, now may I have a question from yourself…
PH: – Enough about me, what do you think of me? No seriously, I might ask where I'm performing. Well, I'm not really interested in going out on the road, so instead, I'm doing my "World Wide Web Tour," starting with Facebook Live mini-concerts once or twice a week, starting this week or next if I can work out the technical bugs. So if one is interested, one would check out my Facebook page, Peter Hostage Music. For a limited time I'm giving away (yes, free) the whole Uptown album!
JBN.S: – Thank you for answers.
Interview by Simon Sargsyan