"Jelly Roll Blues"
Performed by Peter Hostage
Written by Ferdinand "Jelly Roll" Morton, published 1915
Film: "The Irresistible Piano" by Alice Guy
This is my performance of Jelly Roll Morton's "Jelly Roll Blues," as he had arranged it for publication in 1915. I recorded this last June (2012), for my album of early jazz & blues, "The Wayback Machine." I've paired it with a film from 1907 called "The Irresistible Piano," by Alice Guy, who is a pioneering filmaker originally from France, though this may have been filmed in the U.S. I had to do some slight editing to make the music and film fit together. I found the film on PublicDomainFlicks.com.
"Jelly Roll" Morton
"Jelly Roll Blues" is widely considered to be the first published jazz composition. Though he claimed to have written the tune in 1905, it wasn't published until 1915. Morton was the first to take the sound of the New Orleans improvised music and arrange it into a composition to be printed.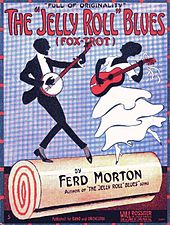 Born on September 20, or October 20, in 1884, 1885, 1889, or 1890, depending on which document or story he might have told, he was born with the name of Ferdinand Joseph LaMothe in New Orleans. By the age of 14 he was making a living playing piano in brothels, or "sporting houses" as they were called then.
He was living with his grandmother, and he told her that he was working the night shift at a barrel factory. When she found out the truth, she threw him out! During this time he earned the nickname "Jelly Roll" because of the smutty lyrics he would sing.
After being thrown out of his grandmother's house, he toured with minstrel shows throughout the south, and during this time on the road he wrote many early jazz numbers, including "Jelly Roll Blues." He brought the sound of New Orleans blues-jazz to the north, first in Chicago in 1910, then to New York in 1911. In 1923 he returned to Chicago to claim his ownership of "Wolverine Blues," which had become a hit. In 1926 he started recording for Victor, the largest record company in the U.S.
In 1935 he landed in Washington, D.C., as the manager of a bar. While there, Alan Lomax heard him and persuaded him to record a series of interviews and performances, which are now in the Library of Congress. While working at the bar, he was stabbed in the head and chest, and suffered complications from the attack until he died in 1941 in Los Angeles.
His songs have been recorded by hundreds of jazz artists, and one of the biggest sellers was "King Porter Stomp" by Benny Goodman. There have been two Broadway shows about him, "Jelly Roll" and "Jelly's Last Stand." There are also a number of biographies, including "Mister Jelly Roll" by Alan Lomax, published in 1950.
"The Irresistible Piano" (1907) by Alice Guy

Alice Guy-Blache, (1873-1968), was a French pioneer filmaker. She was the first female film director, and one of the first directors of fictional narrative films.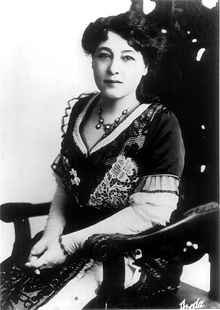 She got her start when hired by Leon Gaumont to work as a secretary for a still photography company. When the company went out of business, Gaumont bought the equipment and started the Gaumont Film Company. By 1896 she was head of production, and was directing, writing, producing and overseeing many hundreds of films. Along the way she became the first to systematically develop narrative filmmaking. She was innovative including using audio in conjunction with film in 1906, in her film "The Life of Christ," using vertical discs synchronized to the film.
In 1907 she married Herbert Blache, and together the moved to the U.S. to start the Gaumont Company's New York studio. In 1910 they started their own studio, Slolax, USA, in Flushing, NY. It was the largest pre-Hollywood film studio in the country. The east coast film industry soon moved west to California, and Guy took a job in California with the Hearst Corporation.
In 1922, she moved back to France and never made another film, but she did write some books, and lectured on the early film industry. In 1953, France gave her their top award, the Legion of Honor. In 1964 she moved back to the US, to live in New Jersey near her daughter. She died in 1968 in a nursing home in Mahwah, N.J. To this day she remains the only woman to have owned and run a major motion picture studio.
"Jelly Roll Blues" – From "The Wayback Machine" is a post from: Peter Hostage Music.com