The great jazz pianist Dave Brubeck past away today in Norwalk, CT. He was 92, and his 93rd birthday would have been tomorrow. Dave was a legend, and was very influential to me. I believe his record of "Take Five" (1961) is the biggest selling jazz single, and one of my all time favorites is "Blue Rondo a la Turk."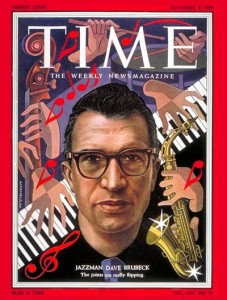 Dave Brubeck was one who simply got better with age. Though he was never know as a "fast" player, he had a unique percussive style. He was playing concerts and recording up until just a few years ago.
On the way home from a gig this last Sunday, Eric on WGBH played a live recording of "Somewhere Over the Rainbow" from Sanders Theater that was exceptionally beautiful and emotion laden. He managed to wring a depth of feeling out of the piano in a way that very few players can, and most of us wish we could do.
Go to his website:http://www.davebrubeck.com/live/
You can listen to a few tracks from his solo piano Christmas album.
R.I.P. Dave Brubeck is a post from: Peter Hostage Music.com